Below are some really cook and beautifully made infographics for cooking and the kitchen. They cover different aspects of cooking and even storing food. What's great about infographics is that they are very easy to read and help inform and remind us of things.
Best Cooking and Kitchen Infographics
1. Kitchen Cheat Sheet
If there's only one kitchen or cooking infographic you can have, this is probably the best one to get. It is very handy and something that you can have in the kitchen as a cheat sheet. It covers everything from weight conversions to cooking times and temperature of different meats and other types of food.
If that's not enough it also has a guide that offers a guide to how long to store common food items.
Source: Everest
2. Storing Groceries and Their Shelf Life
This is one of the most useful guides because we often forget how long certain types of foods last. The chart covers the different food types and offers a guide as to how to store the food item, where's the best place to put them, whether in the fridge, freezer or pantry. Finally it tells us for how long it stays good for.
Source: Buzzfeed

3. Kitchen Tools
This infographic on the other offers an easy way to remember and know the different kitchen and cooking tools, appliances and utensils. It covers everything from the kitchen appliances to pots and pans making it simple to figure what cooking tools are available and you can pick up.
Source: Pop Chart Lab
4. Cooking Methods
With so many different types of cooking methods available, it we may not realize it but there may be another way of cooking some of the dishes we've been making. This chart can help us find new ways to cook things as well as tell us which foods are respond best to which type of cooking method.
Source: Chasing Delicious
5. Guide to Flavoring with Spices
Unless you're a very seasoned chef, you probably haven't tried all the different types of spices. This is a simple, easy to use guide that explains the properties of some of the most common spices used for cooking.
For each spice, it lists down which meats, produce and kinds of food that particular spice works well with. Lastly, it also offers a guide on what to pair it with.
Source: Cook Smarts
6. Grilling
For grill masters and BBQ lovers, this is a must. Never miss the cooking temperature again when manning the grill. You can use this cheat sheet to make sure your guests always get their food cooked to the perfect temperature. If you want, you can memorize the chart to impress your friends too!
Source: Visual News
 7. Kitchen Knife Guide
Knife skills are one of the first things that cooks and chefs see when they look at you prepare you dish. This graphics shows everything we need to know about kitchen knives. It includes the different parts of the knife, the many types of knives available for cooking and the types of slicing and dicing terms that we hear a lot when TV chefs explain their prep.
Source: shared by ShannonLattin on Visual.ly
8. Cooking Vegetables
Cooking vegetables can sometimes be tricky. Cook them too little they may still be a bit raw. Cook them too much they become wilted and lose their crunch not to mention some of their nutritional value.
This table lists the different cooking times for veggies when boiling, steaming or using the microwave oven.
Source: Kidspot
 9. Cooking Grains
Grains contain a lot of fiber and help keep us satisfied for longer periods of time. While rice and oats are the most common grains, there are a lot of other lesser known grains that are available. This chart lists the grains and how to cook each one of them. It covers the measurements, cooking method and how long to cook them for.
Source: Pop Sugar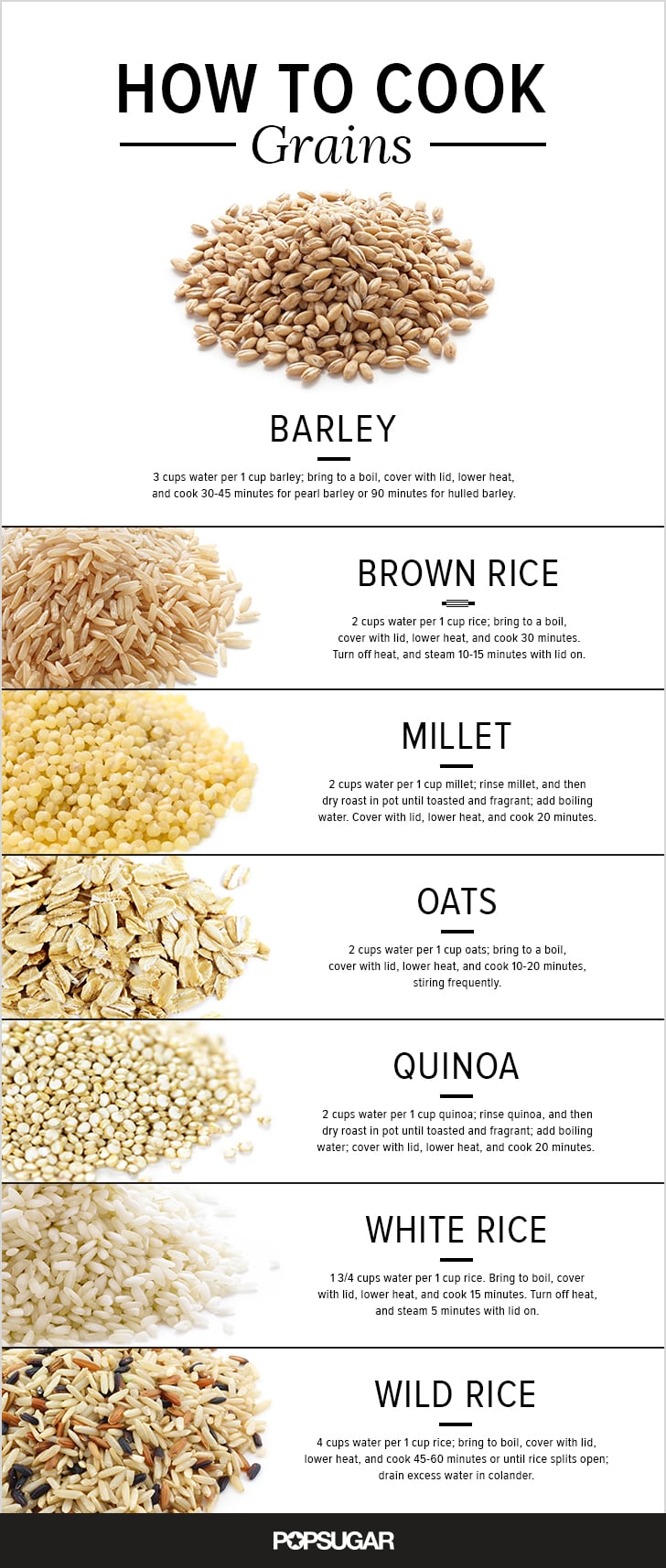 10. Eggs in Baking
If you like to bake or are learning to bake, this graphic is a quick sheet that makes it easy to see how to use eggs when baking. It puts things in order to make it easy to see the difference between the various images.
Source: Chasing Delicious
11. Temperatures for Cooking Oils & Fats
One of the trickiest things to remember what temperatures do certain cooking oils or fats work best. To make that a much simpler task this graphic uses different colors to tell us what temperatures each of the oils are made for and what types of cooking do they work best for. This way you'll never need to second guess which oil to use for certain cooking temperatures.
Source: Chasing Delicious
Source link